Resurrection and Sesame Tofu
Hello Tumblr!  I'm bringing Vegan Alchemist to you! Also, his name is Squidgy and he is my assistant.  The pictures in this post are pretty old, but the recipe is still delicious.
Sesame Tofu
Ingredients:
- 1 block tofu, pressed and dried with a paper towel.
- Enough vegetable oil for 1/4" deep in your pan. *
- 1-2 Tbsp sesame seeds
- 2 Tbsp sliced scallions (optional)

Batter:
- 2 Tbsp ground flax seed
- 4 Tbsp cornstarch
- 1/2 tsp baking powder pinch of salt
- 1/4 c water

Sauce:
- 1/3 c maple syrup
- 4 Tbsp soysauce or braggs. I used 50/50.
- 2 Tbsp ginger
- 3 cloves garlic
- 2 Tbsp sesame oil
- 2 1/2 Tbsp rice vinegar
- 1/4 c water
- 1 Tbsp cornstarch
*If you're using a steel pan, to make sure the tofu doesn't stick you can throw a little bit of salt into the dry pan while its heating up.  Then add the oil.  I don't know why this works, its magic, deal with it.
Step 1: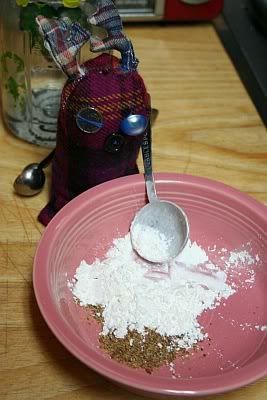 Mix your batter. It should be like a thin pancake batter.
While your vegetable oil is heating up over medium high, slice your tofu into squares. Dunk them in the batter and lay them in the hot oil. Remember to lay them away from you, so you don't splash yourself with hot oil. The batter wont turn golden brown, it will just get crispy. Fry the tofu for about a minute and a half per side. I apologize for the lack of pictures, but expensive camera + batter + hot oil = disaster so…
Step 2: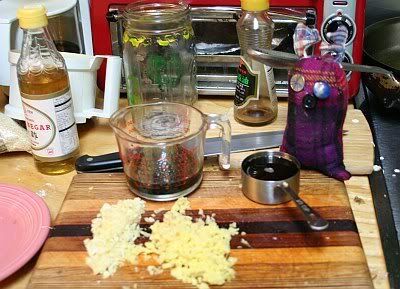 In a tablespoon of reserved fry oil, fry the ginger and garlic.
Careful not to burn the garlic or it will get bitter.
When the ginger and garlic are soft, add the soy sauce/braggs, rice vinegar, sesame oil and maple syrup.
In a separate cup, mix the water and cornstarch into a slurry and add to sauce.
Bring to a simmer and allow to thicken.
Toss the tofu in to the sauce.
Serve over rice and broccoli.
Sprinkle with sesame seeds and garnish with scallions.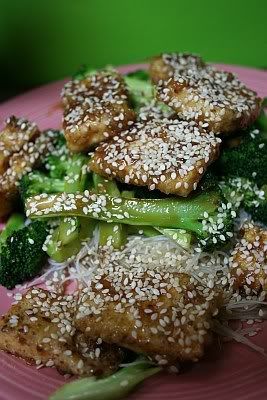 More stuff in the future, like scones, waffles and strawberry mint lemonade!